Steve Pyke
Steve Pyke has been a photographer since 1980. He has exhibited worldwide and worked for many publications, photographing the personalities of the century. He undertakes long term personal projects such as Uniforms, and The Homeless - an investigation of European youth identity, and his highly acclaimed portraits of the principal Philosophers of the Western World. His sitters include many of the great religious and political leaders as well as prominent figures in the arts and popular culture. Public collections include The National Portrait Gallery in London, The National Museum of Photography, Film and Television in Bradford. His books include Poguetry 1990, Philosophers 1993 and Acts of Memory 1996. He has lectured widely and his work has been featured in The Human Face (Arena BBC), Victory Stills (BBC) and The Late Show (BBC). He is currently continuing his work on 'The Homeless' and is photographing a new series, Astronauts, photographing the faces of the men who have walked on the moon.
His most recently completed book was a collaboration with the writer, Timothy O'Grady on the Irish experience of emigration and exile, I Could Read The Sky. It is currently in production as a feature film and is being shot on location in Ireland.
His latest project is Pyke-Eye, a virtual exhibition exploring the full potential of presenting in one place an extensive body of work - to include portraits the great philosophers, the homeless, musicians, politicians etc., still lives of road kill, landscapes of Ireland, and accommodate future works. "I wanted to have a space which existed like a thought, suspended in a possible future, anchored by solid reference to the past." It was launched at the National Portrait Gallery and will go to libraries, colleges and galleries.
The picture on this page, Morgue Tools, is from another long term project dealing with a celebration of the working tool - to be published as a slip case collection of ten trades.
Workshop History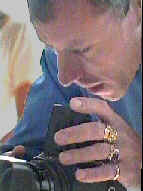 Principally a portrait workshop, Steve will demonstrate studio techniques and lighting, and illustrate how successful portrait photography can be accomplished with the simplest of equipment. He discusses how he approaches his subject, his relationship with it, composition in relation to a personal viewpoint and how to understand exactly the right moment to make a picture.
"Every portrait that is (photographed) with feeling is a portrait of the artist, not the sitter"

Oscar Wilde
---
this page updated: 25 September, 2007